News From Singer Sewing Center
JANOME MC9900 SEWING & EMBROIDERY
The Janome MC9900 is a great
sewing machine
with
7-point feed dogs for smooth sewing.
It is also a great embroidery machine
with a 6.7 X 7.9 hoop capability.
This machine normally sells for $4,999.00,
but we have a BRAND NEW IN-THE-BOX model
that we are selling for $2,500.00.
This price includes a new warrantee,
and you even get your rewards points!
FLORIANI TOTAL CONTROL-U Software

Monday, September 26, 2016  6:00 – 8:00pm
Learn a few of the zillion ways
to edit the stitch pattern
for any design.
We will also be checking out
some of the new features
in the latest upgrade.
Bring your laptop
with the latest upgrade
and play along,
or just come and see
how much fun you can have
manipulating designs
to get just the look you want.
No charge. No hand-outs. Lots of fun.
QUILTING ALL DAY!
Come join the
COASTAL BEND QUILT & NEEDLEWORK GUILD
Tuesday, September 27, 10:00 – 6:00pm
Bring your sewing machine
and all your sewing or quilting supplies
and finish up some of those UFOs for only $10.00.
CBQNG meet at the Singer Sewing Center
the 4th
Tuesday
of the month for sewing, quilting and joy.
You don't need to be a CBQNG member, or even know one.
Just show up any time between
10:00am and 6:00pm
and have some fun.
No teaching, but if you like opinions, we can supply those.
KIDS BEGINNING SEWING CLASSES
Saturdays  

9:00am-11:00am
Saturday
mornings, from
9:00-11:00am
we offer Fun Sewing Classes for Kids aged 7 – 14.
Each week we offer a different project,
that the student will create from start to finish.
The projects are appropriate for first-timers,
but fun enough for skilled sewist.
Each class is $25.00,
and includes all materials needed to complete the day's project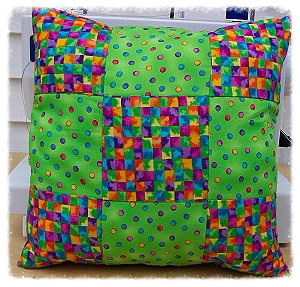 We'll be making
"9 Square Pillows".
You MUST pre-register to attend.
WESTALEE 
RULER FEET CLASS
You CAN sew out perfect quilt designs
on your sewing machine.
Sign up and show up,
and Susan will guide you while you learn
to create beautiful designs using ruler feet.
 No Charge for the class!
But you must bring your own machine and supplies.
We will be using the all the template rulers from:
Westalee Sew Steady Sampler Template Set 1.
Call 991-5151 to sign up and get the supply list.
If you would like to take the class,
but don't want to purchase the feet,
bring your sewing machine and $40.00,
and we will provide your supplies.
You MUST pre-register to attend class.
QUILTING and UFO CLASS
Wednesday, September 28, 1:00pm
Need some help with your UFOs?
Faye specializes in quilting, 
but can also guide you 
through most projects that you would like to begin, 
or are stuck in the middle.
Classes are $25.00 for 2 hours, 
and only $5.00 for each additional hour.
YOU MUST PRE-REGISTER TO ATTEND.
Call 361-9912-5151 to sign up.
BEGINNING
SERGER CLASS
Get your serger out of the closet, and learn to love it.
Susan will help take the mysteries out of your overlock.
Bring you serger with 4 different colors of thread,
and go home a more confident serger.
You MUST pre-register to attend.
Call 991-5151 to reserve your spot.
SHELLY GRAPPE  "Coastal Garden"
Friday, Oct 7 AND Friday, Oct 21, 2016
Let Shelly show you the joys of applique and
free-motion quilting.
You will go home with this beautiful "Coastal Garden"
wall hanging.
This is a 2 day class
on 2 Fridays.
The 2 day class is $95.00 plus pattern & materials.
Call 362-991-5151
to reserve your spot and receive your supply list.
SCAN'N'CUT EMBOSSING
Saturday, October 8, 2016  11:30-1:30
Your Brother Scan'n'Cut now has embossing capabilities.
Bring your Scan'n'Cut with the new embossing tool.
We will be embossing vellum and metals during the class.
$30.00 for the 2 hour class,
includes all materials to finish the project.
CHRISTMAS GIFT SOONERS
Sunday, October 9, 2016

   1:00pm –

7:00pm

 
Get a jump on your Holiday Gifting!
Join Tassie and Faye as they help you ease into the season.
They have lots of ideas and patterns and advice.
Bring your sewing machine and all the trimmings,
for a fun, productive day.
This 6 hour class is only $45.00 plus materials,
and you will go home feeling good
about your custom made gifts.
Call 991-5151 to reserve your spot,
and for more information.
BEGINNING GARMENT CONSTRUCTION 
and PATTERN READING
Monday, October 17    9:30am – 12:30pm
Pepper will be teaching you the wonderful world of making your own clothes.
This first class, you will be learning how to turn
a pattern and fabric
into a perfectly fitting A-line skirt.
The 3 hour class is $30.00, and includes the skirt pattern.
Call to reserve your spot, and get your supply list.
Sewing Themed Shopping Bags    1/2 OFF!!!
Get a great
reusable
shopping bag
half-off
with any
purchase!
Your choice
only
$2.00 each!
Multi-Needle Embroidery Machine Owners!
We now have in stock the Durkee 7 in 1 Frames,
for quick no-hoop embroidery.
These are made with a very thick aluminum,
so have very little vibration,
compared to "other brand's" thin steel  single hoops.
Come in and give them a try!
Single-Needle Owners with Cap-Envy
Now you can easily
embroidery on caps,
with Durkee's Cap Hoop.
And it has a 5X5 inch
sewing field!
That's larger than the
cap hoops on the big machines!
Come in and check it out!
Do You Have the Brother PR100
or the  Baby Lock Alliance? 
Turn your terrific embroidery machine into a
Free-Motion Quilter!
This new kit includes a
large table,
foot control,
and free motion hoop,
and
the pressure foot that activates the free motion magic.
LOOKING AHEAD
We have some great
Classes and Events coming up.
It's not too early to mark your calendars
for these fun programs.
SILK RIBBON HAND EMBROIDERY
Thursday, November 3 10:00am – 1:00pm
Sue Bryan has agreed to give us an encore class on
Hand Embroidering with Silk Ribbons.
If you missed her first class, or would like to take it again, call
361-991-5151
to sign up.
This 3 hour class is $45.00, and includes all materials to complete your project.
Just bring a 4-6 inch hoop.
ANITA GOODESIGN EMBROIDERY EVENT
Friday, Nov. 11 & Saturday, Nov. 12, 2016
Another great Embroidery Event brought to you by
Anita Goodesign.
We will be using the latest Brother Embroidery machines for this annual event.
If you would like to learn more about machine embroidery,
plan to attend this informative and fun event.
$99.00 for 2 days of fun and food.
JANOME QUILTING WORKSHOP.
More information coming soon.
BABY LOCK EVOLUTION AND OVATION SERGER EVENT
Spend 2 days finding out
how fantastic a serger can really be!
this hands-on class will astound you!
More details soon.
NEW DATE. even a new YEAR!
FLORIANI IN-STORE SEMINAR EVENT.
Friday January 20

OR

Saturday Jan. 21, 2017
This one-day event will help you understand the secrets to perfect machine embroidery.
Learn what stabilizer to use when, and how your threads will make a big difference in your finished designs.
Only $49.00 for this 7 hour class;
which includes, lunch and snacks,
and also a free gift from Floriani worth $499.00!
SUNDAY, January 22, 2017
,
there will be hands-on classes,
for those that have the Floriani Total Control-U.
PAM DAMOUR 
ZIPPER and NOTIONS  EVENT & CLASS
More details soon.
Would you like a new machine,  but you don't want to wait?
The Singer Sewing Center
ALWAYS offers
no money down, and no interest for 12 months,
for qualified buyers.
Don't mind waiting? We have
LAYAWAY as well.
Come in and find the machine of your dreams.